I should clarify. 4th and 1 is not simply a "football camp" It is a free football and life skills camp for student-athletes. I am beyond proud to have been a part of this innovative program founded by Daron Roberts, Cleveland Browns defensive quality control coach and a graduate of Harvard Law School.
For six days, the student-athletes lived on the Jacksonville University campus and gained exposure to college life. They were exposed to college admissions counseling, business skills training, life skills courses, and motivational speakers. The curriculum also included daily yoga, résumé writing workshops, SAT skills classes, dinner etiquette instruction and of course football.
WHAT I LEARNED AT FOOTBALL CAMP
Football is not a game. It is an opportunity to:
work with others toward a common goal

be courageous and take chances

succeed and celebrate

let go of the past - errors happen, what now?

be an encourager

trust others

protect others

to trust that others are protecting you

forgive, move on and trust again (see above)

Play, laugh, breathe, experience joy and roll with the unexpected!
Be amazed.
From a physical standpoint, can you see how side angle, triangle, our revolving poses, shoulder opening poses, and warriors (quad strength and knee stability) benefit this movement? From a mental standpoint,, do you
think there might be a tiny bit of focus to create the just right timing necessary to catch the ball at this height? All while potentially surrounded by others working to stop you!
My Yoga Philosophy as Applied to Football
It is not where you start, it is how far you travel

Persistence combined with patience pays off

Accomplished athletes are yogis on the field. they are focused, in the moment, working at the body's capacity,and removers of obstacles

You don't need a mat to practice seva (selfless service) Too many examples to begin to describe!
Check out this beautiful Side Angle Pose!
What I will carry with me:
When given a place of acceptance we shed our protective exterior. and the true self emerges The true self is beautiful, joyful and kind. It takes strength and courage to expose the true self. The 4th and 1 student athletes have strength and courage.
What triangle looked like on day 3. Beautiful, right?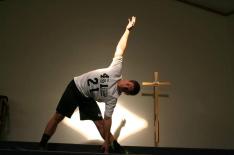 The camp is sponsored through a grant from the Jacksonville Jaguars Foundation.
A special shout out to the Jacksonville Jaguars Organization, for making generous contributions to our city and its residents. I am grateful for the time, the professionalism and graciousness shown to the 4th and 1 participants. How awesome for them to get to see the stadium, locker room,and talk with accomplished professional athletes! No longer a fair weather fan, I'll be cheering. I am all in!
4th and 1 student athletes in the Jag locker room!
A deep bow of gratitude to the MMY community for generously doanting yoga mats for all student athletes! Thank you for participating with me!