Sonia Jeup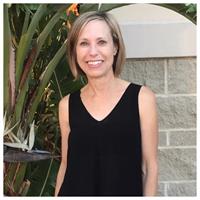 I decided to explore yoga as a way to relieve pain and tightness that I had developed from years of running, weight training, and various fitness classes. I tried several studios and styles of yoga but struggled to find a place that felt "right". At MMY Terri made me feel comfortable and safe. And of course physically I felt better with each class.
The physical benefits of yoga have been wonderful, but for me the true gift of yoga has been learning to let go of expectations and judgements and practice acceptance- on and off the mat. Yoga has been a blessing in my life, and I am grateful for the opportunity to share this joy with others through teaching. It is my intention for each person to leave my class feeling better mentally and physically each time we practice.
Sonia Jeup instructs the following:
Suitable for those new to yoga as well as those with an established practice. Focus is on learning proper alignment, gaining strength and flexibility as well as cultivating a sense of peace and calmness. Great for all levels. Modifications will be offered to help each student work at the desired pace. Third Friday of each month we meet at an alternate location. Announcement will be made in the studio.