Terri Morrison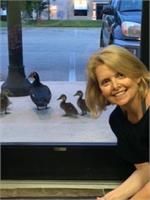 E-RYT500, YACEP, MBA
Founder, Director
A teacher as well as a teacher of teachers, Terri nurtures a dedicated group of students who are able to safely be with their minds and bodies in the studio and in the world. First drawn to yoga by the physical postures, Terri found through the practice intellectual and spiritual growth, too. She approaches life with energy and acceptance, believing that each person's unique experiences allow for unique ways of viewing the world. These beautiful differences are full of opportunities for all of us to learn together. Terri is passionate about the subject of mindfulness as a means of stress reduction.
Terri Morrison instructs the following:
Moderate temperature, warmed to approx. 75-85 degrees. Our intention is to offer a strong class with opportunities to advance the practice physically, mentally and spiritually. Energetic yet meditative. Class focuses on integrating mindfulness, breath and movement, ends with relaxation. Best for those who have an understanding of our Level 1 Yoga and wish to challenge themselves.




This class focuses on an exploration of basic yoga poses and how to connect them through attention to breathing, alignment and mindfulness. Modifications for beginners as well as those advancing the practice will be offered. You will learn techniques to help you gain flexibility, strength, and mindfulness. Beginners encouraged to start here. Open to all levels and abilities.




Start here if seeking a gentle and therapeutic class. Focus is on slowly building strength and flexibility as well as cultivating a sense of peace and calmness. Great for all levels. No pretzel poses :-)




No charge for this class. Instruction in mindfulness meditation. Meets most Saturdays. Please check schedule. 30 Minutes of discussion and meditation practice. Everyone welcome.




All Levels Welcome! Join us as we celebrate the New Year by setting our intention for 2014!