Diane Perkins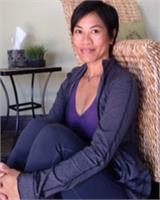 RYT500
Her Journey to the mat came by chance when Diane, a life-long runner, accepted an invitation from her sister-in-law to attend a yoga class. Diane struggled through postures until she discovered the support of breath. Continued practice brought calmness and quietness; she learned patience and self-acceptance. These carry into Diane's interactions with others. She is curious about how yoga presents itself in life off the mat.
Ever a runner and avid walker, when in need of renewal Diane finds a nature trail to wander. She feels most at home "playing in the dirt" in her backyard. Home also means curling up in a blanket cuddling with her two dogs.
Diane teaches yoga to pass along to others the benefits she has gained. She shares the wish John Lennon sings of in "Imagine," that everyone would live as one.
Diane Perkins instructs the following:
Moderate temperature, warmed to approx. 75-85 degrees. Our intention is to offer a strong class with opportunities to advance the practice physically, mentally and spiritually. Energetic yet meditative. Class focuses on integrating mindfulness, breath and movement, ends with relaxation. Best for those who have an understanding of our Level 1 Yoga and wish to challenge themselves.




A restful and restorative experience. No experience is needed. Restorative yoga emphasizes the calming of the nervous system and teaches the art of relaxation, which has tremendous mental and physical benefits. A series of rejuvenating and supported poses are taught to promote vitality and create a state of deep relaxation. Melt tension away and leave feeling completely refreshed and fully restored. A great class for all levels of yoga students.