Elaine Knopsnyder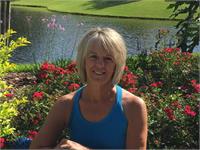 Hi, my name is Elaine Knopsnyder. My husband, Dave, and I are originally from Indiana. We moved to Jacksonville 30 years ago to pursue professional careers and "get out of the cold." We have a son, Kyle, who will soon graduate from law school. I worked in the Corporate World for 28 years as an Information Systems Director at Blue Cross Blue Shield of Florida. Upon retirement, I had plans to play tennis and golf every day, but developed back pain issues that put a monkey wrench in those plans. I pursued Yoga, because I was told it could help my back and get me back on the courts and links. Within a matter of weeks, I was "Hooked on Yoga". While Yoga improved my back, it gave me so much more….relieved stress and brought about a calmness that I could never imagine. I wish I had known about Yoga years ago, while dealing with the rat race of the Corporate World. Yoga could have been the answer to those stressful days! Once I realized all the benefits of yoga, I had the desire to spread the word. Therefore, I pursued becoming an instructor at Mindful Motion Yoga. I completed the Mindful Motion Yoga Teacher Training and recently became certified. In addition to Yoga, some of my greatest loves are family, animals, and sports. We travel to Indiana quite often to be with family, a rather large family. I have four sisters, two brothers, (my triplet brothers). Yes, I am the third part of the triplets. With in-laws, nieces, and nephews there are sixty of us. We have great fun at family gatherings. We rescued a dog from the parking lot of Applebee's Restaurant, and named her, you guessed it, Applebee. We also have a cat that needed a home, named Mr. Snuggles. I enjoy watching all sports, but particularly love the Jacksonville Jaguars.
Elaine Knopsnyder instructs the following:
Suitable for those new to yoga as well as those with an established practice. Focus is on learning proper alignment, gaining strength and flexibility as well as cultivating a sense of peace and calmness. Great for all levels. Modifications will be offered to help each student work at the desired pace. Third Friday of each month we meet at an alternate location. Announcement will be made in the studio.